Be CLEAR on our Bag Policy!
Liberty First Credit Union Arena strictly limits the size and types of bags permitted inside the arena. Liberty First Credit Union Arena strongly encourages fans to travel light.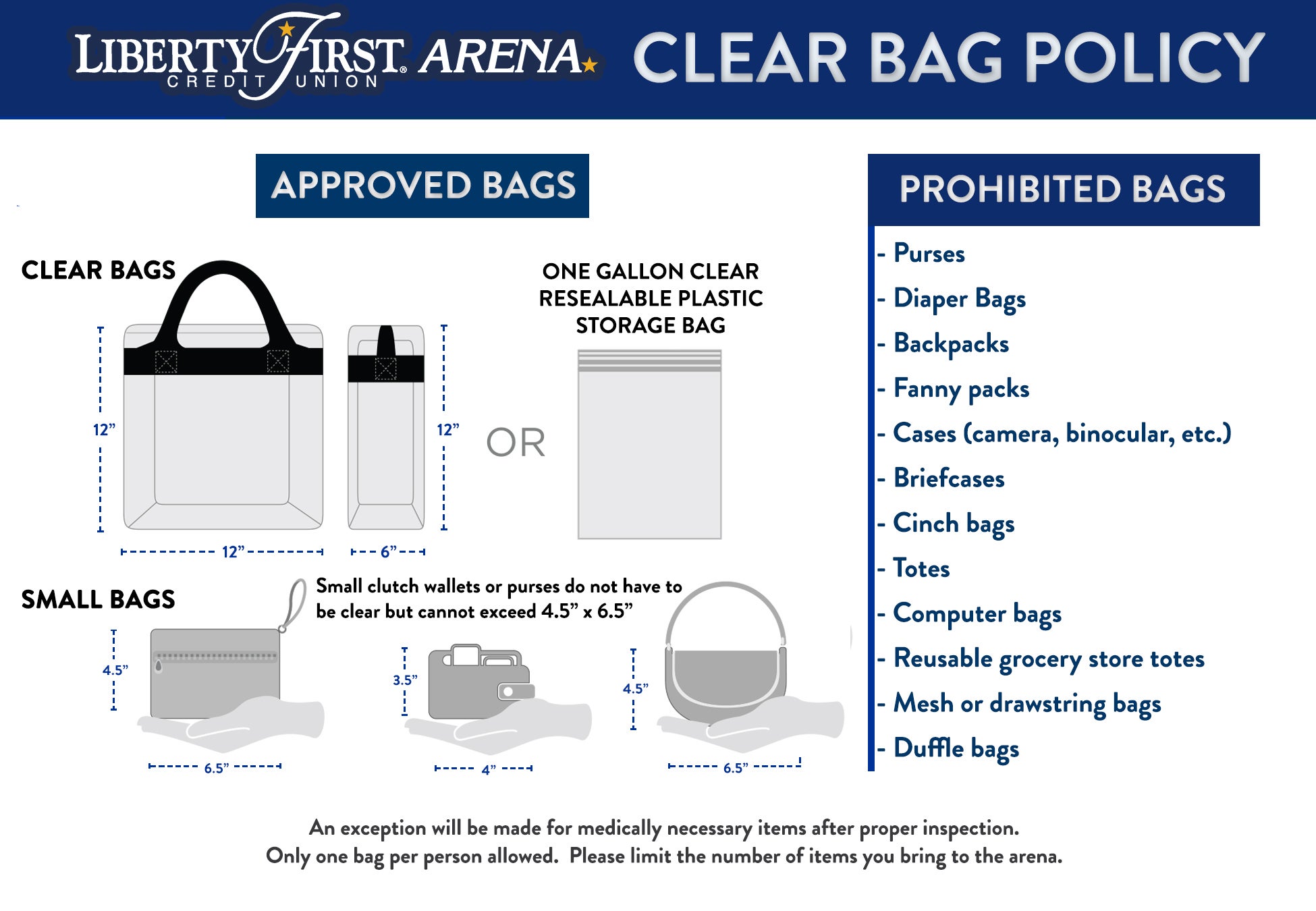 The Clear Bag Policy states that the following are permitted inside the Liberty First Credit Union Arena for events:
Clear plastic bags measuring 12 inches tall by 12 inches long and 6 inches wide
Small clutch-sized purses or wallets 4.5 inches tall by 6.5 inches wide or smaller
One-gallon, clear plastic zip-lock bags can take the place of a clear plastic bag
Only one bag allowed per ticket holder
Bags are still subject to search
No large purses, bags, backpacks, fanny backs or diaper bags will be allowed
Exceptions will be made for medically necessary items after proper inspection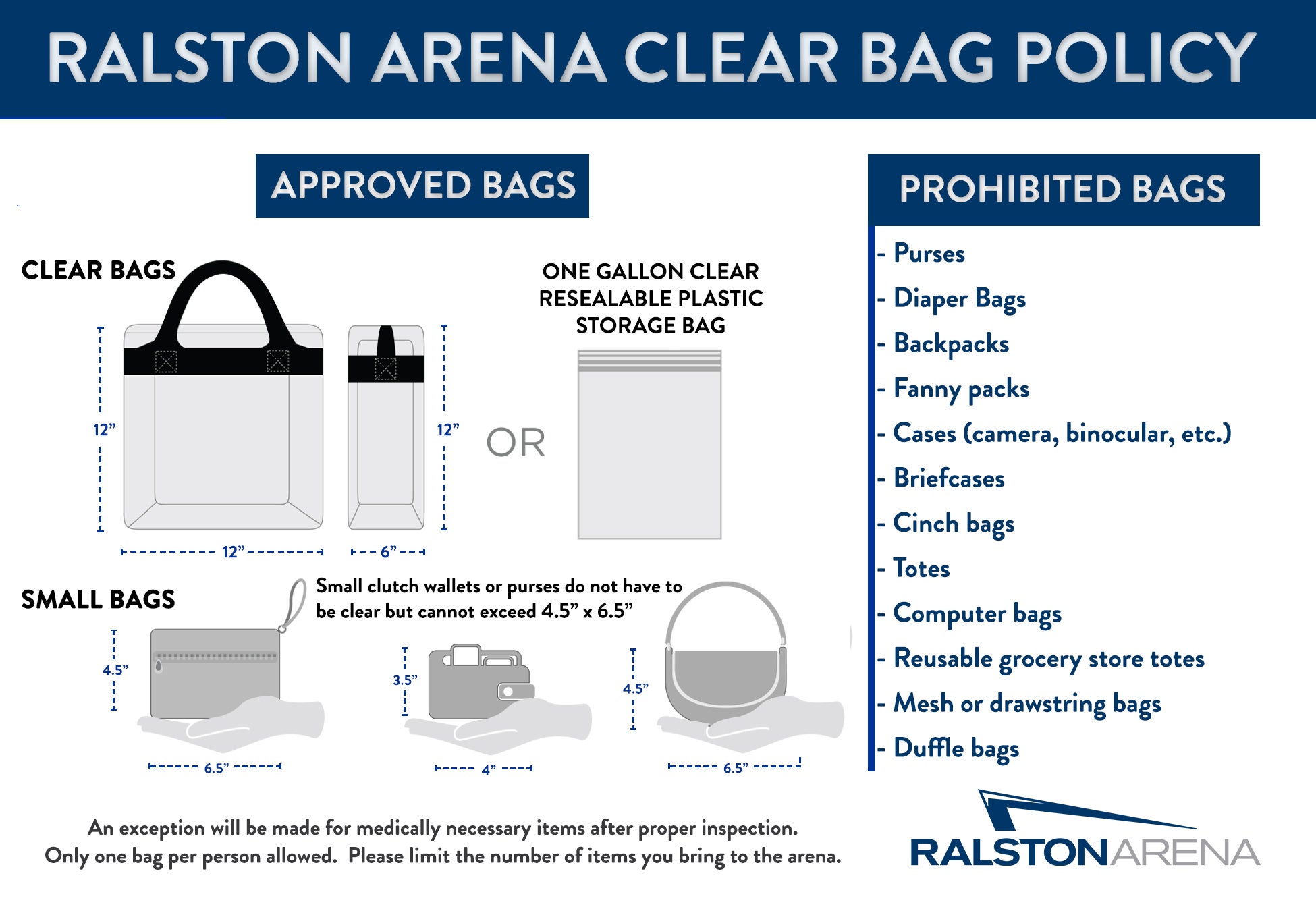 There are no storage areas available in the arena to store or safeguard any prohibited bag. If you bring an unauthorized bag, you will be allowed to return the bag to your vehicle before entering the arena. The arena is not responsible for items left in your vehicle.
PROHIBITED ITEMS
Alcohol

Animals (except for service animals)

Bags, Fanny Pack or Backpacks THAT DO NOT ADHERE TO CLEAR BAG POLICY MEASUREMENTS.

Balloons

Beverage containers of any kind, (other than one (1) clear, disposable, empty water bottle per person)

Cameras with detachable lenses, Tripods, and Selfie Sticks, go-pros, Audio Recording and Video Recording devices

Chairs, Stools, OR Other Seating Devices (except for medical purposes)

Drugs or Illegal Substances

Hover Boards / Heely / Skateboards / Rollerblades

Inflatables (other than footballs at Beef games)

Noisemakers (bells, whistles, air horns, etc.) exceptions certain events

Outside food or drink

Remote Controlled Devices, Drones

Sealed Packages of Any Kind

Signs, banners, promotional material on sticks, rods, or poles

Strollers

Tablets or Computers

Teasers, Laser Pointers and Glow Sticks

Umbrellas

Weapons, or an object resembling a weapon. No firearms, handguns, rifles, knives, razors, brass knuckles, swords, chains, mace, pocketknives, and any other items deemed unsafe by VENUE MANAGEMENT

OTHER ITEMS AS DETERMINED BY VENUE MANAGEMENT OR EVENT PROMOTER
Please allow appropriate time and travel light as all guests will go through security prior to entering the arena.
Once you go through security and enter the arena, there is a No Re-Entry Policy.
You will not be allowed to leave and re-enter the arena. This is for the safety of all patrons and staff.
We appreciate your cooperation!